Having performed over 5,000 cosmetic procedures, Cosmetic Surgery Australia's Dr Sri Darshn's extensive professional experience and devotion for exceptional patient care, drives his passion for working in the cosmetic surgery industry.
He has over 10 years experience– working in notable hospitals including RPA, Prince Of Wales, St George & The Royal Hobart Hospital.
Dr Darshn's impressive repertoire and incredible passion for making women feel beautiful, confident and comfortable within themselvesis what makes him the perfect #beautyboss.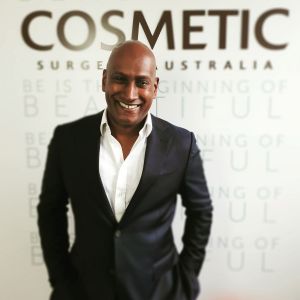 The Beauty News crew were lucky enough to sit down to chat with  Dr Darshn about his opinions surrounding beauty, health & fitness:
TELL US A LITTLE BIT ABOUT YOUR PRACTICE..
Cosmetic Surgery Australia was only a glint in my eye just under a year ago. It has now grown to encompass a wide range of surgical and non surgical cosmetic procedures to help our patients improve their aesthetics and build their confidence. Its a friendly practice with a big emphasis on making our patients feel comfortable and supported.
HOW DO YOU DEFINE BEAUTY?
That old adage, "beauty is in the eye of the beholder" really rings true to me. Everyone's classification of beauty does seem to vary. There are talks about facial symmetry and ratios determining the quintessential face of beauty but I find that its an inner confidence and comfortability with oneself that can really make a person beautiful. Having said that I am a sucker for a nice smile! 🙂
WHAT ARE YOUR MAIN GOALS FOR CSA?
To be honest I'm taking it a day at a time but the goals I set for the company are the same as the goals I set for myself. To ensure that patients are treated with dignity and compassion. To strive for excellence in results and to always allow for the flow of communication. I really do believe that if you look after your patients, the business will look after itself.
DO YOU THINK A HEALTHY & ACTIVE LIFESTYLE IS A NECESSITY FOR ACHIEVING A WELL-ROUNDED AND HAPPY LIFE?
A dynamic, healthy lifestyle with a good quota of nutritious food is a fantastic way to live. Not only are the physical effects obvious but studies have shown improvements in stress relief and elevation of mood levels. I train three times a week and to be honest I would probably be bouncing off the walls if I didn't. I have to say that I do lapse with the diet every now and then but everyone's allowed a couple of cheat days? Right?
WHAT ARE YOUR THOUGHTS TOWARD SENTIMENT EXPRESSED BY THOSE WHO BELIEVE WE SHOULD NOT INTERFERE WITH THE NATURAL AGEING PROCESS?
Modern advancements in medicine and technology have allowed us to live longer and healthier. People just don't feel their age anymore and sometimes whats on the outside doesn't really represent whats on the inside. This is where its nice to have options to do something about that. Its good to understand that the decision making process is an important one. It shouldn't be rushed and all options should be provided. Information supplied during consultation and compulsory cooling off periods really help ensure that our patients are totally sure before they undertake any procedure.
BESIDES AN IMPROVED PHYSICAL APPEARANCE, WHAT OTHER BENEFITS DO YOU SEE IN YOUR PATIENTS WHO HAVE UNDERGONE COSMETIC OR RECONSTRUCTIVE SURGERY?
The obvious goal of cosmetic surgery is to improve aesthetics but from what I've noticed it goes a lot deeper than that. I've seen personalities completely change and people really come out of their shells. Its an absolute pleasure to see such dramatic changes in my patients and it's really one of the main reasons that I do what I do. If patients are given the confidence to move forward in a more positive manner then I've done my job.
DO YOU ENCOURAGE YOUR PATIENTS TO STAY FIT AND ACTIVE FOLLOWING THEIR PROCEDURES?
Being fit and healthy is an important part of recovery after any operation. Good hydration, healthy eating and moderate exercise always help improve surgical results. There is a period of rest and recuperation that should always be followed after any procedure and its important to talk to your surgeon before recommencing any physical activities.
WHAT WOULD YOUR ADVICE BE TO WOMEN WANTING TO TAKE THE PLUNGE AND UNDERGO A COSMETIC PROCEDURE?
The decision to undergo cosmetic surgery should not be taken lightly. Changes are made that are often permanent and have a considerable impact on ones personal appearance. There are risks as well as benefits and its important that whatever decision a person makes, they do so with all the information at hand. At CSA we spend ample time going through all the salient points of the procedure and send our patients home with information packs so that they feel well informed before taking that next step.
As published in www.beautynews.com.au